Printable Baseball Coloring Pages
Color with Fuzzy!
Print my baseball coloring pages, and then choose your team's favorite colors. Choose a baseball catcher, batter, or runner.
Which position do you play?
I like to be the catcher. Being a teddy bear I'm good at catching, but I'm not always the best runner. I like T-ball because we don't always have a pitcher. Otherwise I love to go to a baseball game where I might catch a fly ball in the outfield.
Remember to root for the home team!
~ Fuzzy

I may make a small commission through offsite links. As an Amazon Associate I earn from qualifying purchases.
Attribution: Many CWF images are licensed at GraphicsFactory.com.

Preschool and elementary school kids will love Fuzzy's ad-free PDF printable coloring pages. They are fun to customize and color for homeschool.
Add your name or write a birthday message in your favorite fonts, SIZES, and colors. You'll love using my interactive coloring pages to print! See my home page for more info on digital downloads.
Use your printer's booklet setting for birthday cards.
Use the multiples setting for doll sized printables two to four up.
Kindergarten children love these in school and at home!
Also, get your favorite crayons, coloring pencils, and watercolors ready for my relaxing adult coloring pages!
~Fuzzy
Jump down to these coloring pages on this page:
Fun Baseball Coloring Pages
1.  Baseball Player Coloring Pages
1A. Pitchers
1B. Batters
1C. Catchers, Shortstops, Outfielders
I may make a small commission through offsite links. As an Amazon Associate I earn from qualifying purchases.
2. Baseball Equipment To Color
3. Baseball Diamond, Charts, and Awards
Fuzzy Loves Playing Baseball
For many of us summer time means baseball season! We sit through long hours of practice and equally long hours sitting on the sunny side waiting on the children to play their nine innings. Sometimes it is Dad who's playing. 
Baseball is a fun game that most of us follow easily and enjoy. When we're little we might need an explanation of baseball equipment and the rules. It is fun to learn how the field is laid out and how the scores are kept, so maybe you could ask your Mom and Dad to explain the rules of the game.
Many of these baseball pictures also work for T-Ball players. Do you know what T-Ball is? It's like baseball; but there is no pitcher as the T holds the ball for the batter.
If you're on a team you can find the right colors and print the player for the same position you hold on the team. Color your picture and send to family and friends or hang it on the refrigerator.
Off to the play offs? Color these pages in your team colors to put in the van window.
Watching Major League Baseball? Color these players to match your favorite team as you watch the scoreboard and the team standings. Do the same with your home town baseball team. 
You can keep a few coloring pages on a clipboard for slower moments.
You might also be interested in our other sports pages:
Thank you for coloring with Fuzzy!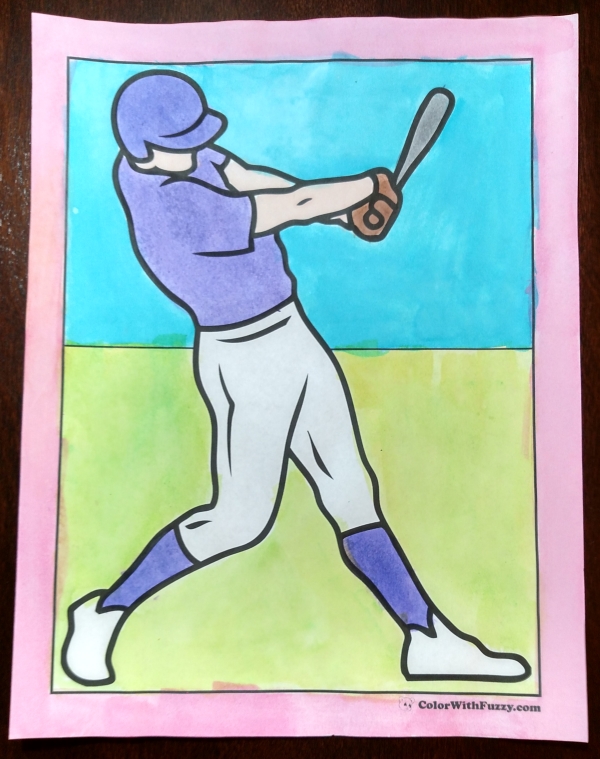 Root for your favorite baseball coloring sheets here. Thank you for visiting.