Iwo Jima Picture Coloring Page
Printable Iwo Jima Picture
Flag Coloring Page
Color with Fuzzy!
Honor our US Marine Corps heroes today in this Iwo Jima picture of the American Iwo Jima flag raising. Great for Memorial Day, Flag Day, July 4th, and Veterans Day!
It represents the Battle of Iwo Jima monument where the United States Marines in the statue are raising the American flag over Iwo Jima Island as the battle is being won.
Remember and commemorate the battle with this American flag coloring page.
~ Fuzzy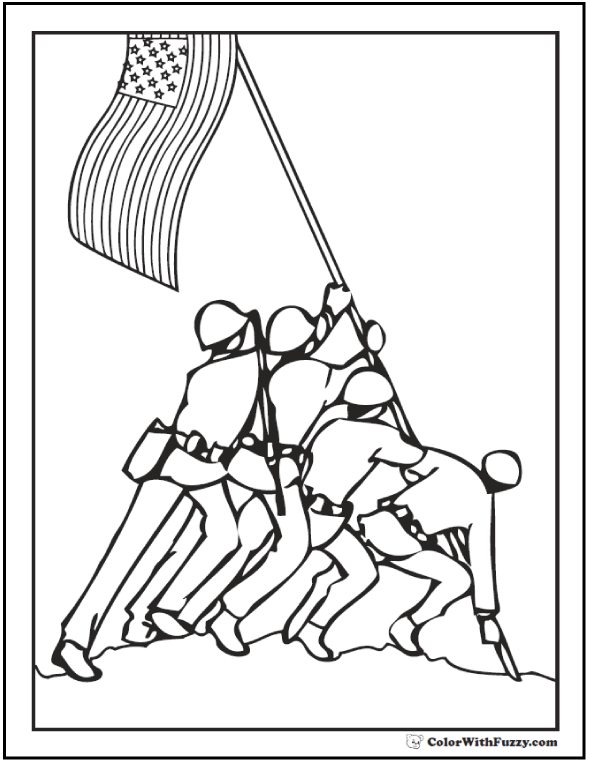 Memorable Iwo Jima Picture Flag Coloring Page. The soldiers are brave Marines.
I may make a small commission through offsite links. As an Amazon Associate I earn from qualifying purchases. Crayola has my favorite colors because their crayons, paints, and markers color so smoothly on any kind of paper.
Attribution: Many CWF images are licensed at GraphicsFactory.com.

Original Iwo Jima Picture
See the story and an original Iwo Jima photo by Joe Rosenthal at Wikipedia.

Memorial Day, July 4, Veterans Day, and WWII Heroes
Iwo Jima Picture Flag Coloring Page for patriotic holidays like
Memorial Day, the weekend before the last Monday in May.
July 4th, Independance Day in the USA.
Veteran's Day.
Iwo Jima History: Iwo Jima Battle was fought on the Japanese island in World War 2 from February 19 to March 26, 1945 on Iwo Jima Island on top of Mount Suribachi. 
See more flag coloring pages at PrintNPractice, one of my other sites.
Preschool and elementary school kids will love Fuzzy's ad-free PDF printable coloring pages. These digital coloring pages for kids and adults are fun to customize and color for preschool, kindergarten, and homeschool.
Add your name or write a birthday message in your favorite fonts, SIZES, and colors. You'll love using my interactive coloring pages to print! See my main page for more info on digital downloads.
Use your printer's booklet setting for birthday cards.
Use the multiples setting for doll sized printables two to four up.
Kindergarten children love these in school and at home!
Also, get your favorite crayons, coloring pencils, and watercolors ready for my relaxing adult coloring pages!
See more below.
~Fuzzy
Fuzzy Loves Patriotic Coloring Pages!
Since the American flag in the picture is red, white and blue teach kids to use red for the first and last stripes, every second stripe, and leave the alternating in between stripes white.
The field around the stars can be dark blue while leaving the stars white.
The Marines' uniforms and helmets can be colored green or some gray green color mix. The ground can be green and brown like the grass and dirt on Mt. Suribachi.
Thank you for coloring with Fuzzy!