Printable Bunny Coloring Pages
Enjoy 9 Bunny Coloring Pages To Print!
Bunny coloring pages are so fun!
First they remind us of Easter and spring time. What's better than fluffy bunnies, good weather, and sunshine?
See nine coloring pictures of bunnies on this page.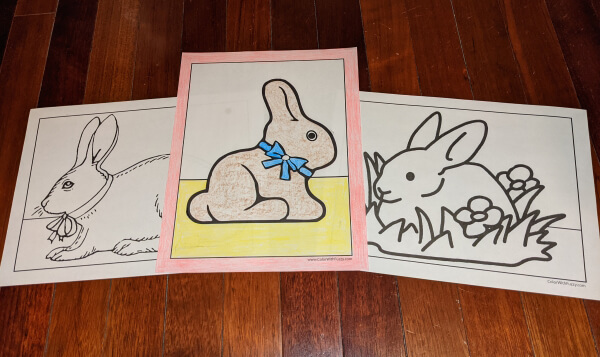 See nine bunny coloring pages below.
You Can Make Easter Cards Or Greeting Cards For Your Family And Friends!
I used my printer's Booklet setting to make a bunny card. You can too!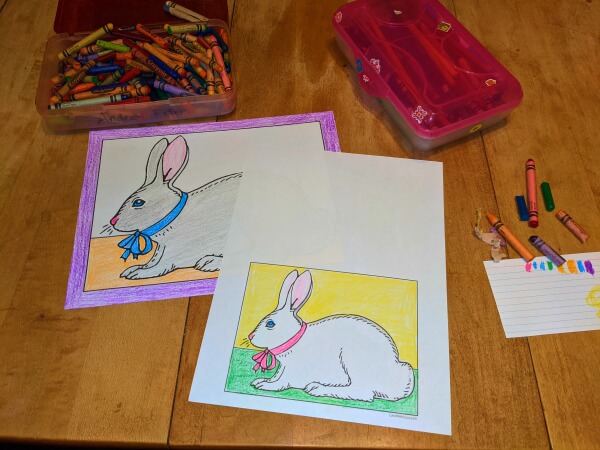 A bunny card is fun to give at Easter or spring time!
Color with Fuzzy!
Coloring Easter bunnies and bunny rabbits is one of my spring time favorites. I would like you to remember that it's getting to be baseball season, too.
Preschool and kindergarten kids love these furry animals with Easter eggs, flowers, and other cute spring time themes. Enjoy!
~ Fuzzy
Print Fuzzy's Collection Of Bunnies To Color
Jump down to these printable bunny coloring pages on this page:
I may make a small commission through offsite links. As an Amazon Associate I earn from qualifying purchases. Crayola has my favorite colors because their crayons, paints, and markers color so smoothly on any kind of paper.
Attribution: Many CWF images are licensed at GraphicsFactory.com.

1. Prize Bunny Coloring Page
Isn't he gorgeous?! All dressed up for the fair complete with a bow on his collar, this prize bunny is fun to color. I love how soft and fluffy he looks.
Would you leave him white and simply color the background? Remember to color some pink on his nose and ears.
Maybe he is a soft gray bunny rabbit? Leave the collar white or give this realistic bunny your favorite bright happy colors.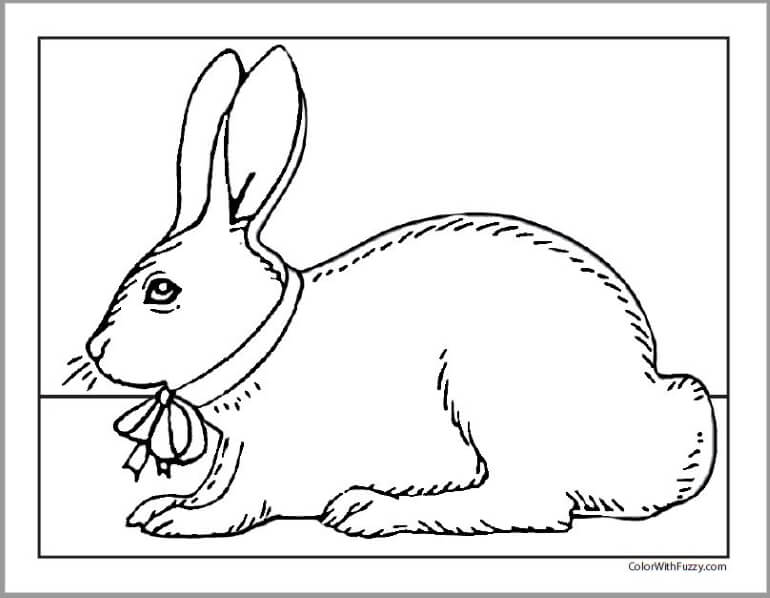 This prize bunny rabbit has a lovely bow to color!
Preschool and elementary school kids will love Fuzzy's ad-free PDF printable coloring pages. These digital coloring pages for kids and adults are fun to customize and color for preschool, kindergarten, and homeschool.
Add your name or write a birthday message in your favorite fonts, SIZES, and colors. You'll love using my interactive coloring pages to print! See my main page for more info on digital downloads.
Use your printer's booklet setting for birthday cards.
Use the multiples setting for doll sized printables two to four up.
Kindergarten children love these in school and at home!
Also, get your favorite crayons, coloring pencils, and watercolors ready for my relaxing adult coloring pages!
See more below.
~Fuzzy
2. Easter Bunny Coloring Pages
2.A. Cute Easter Bunny Coloring Page
He's so cute! Which color will you use for this Easter bunny's bow?
This is a great preschool coloring page because it has wide black outlines and simple large spaces for coloring.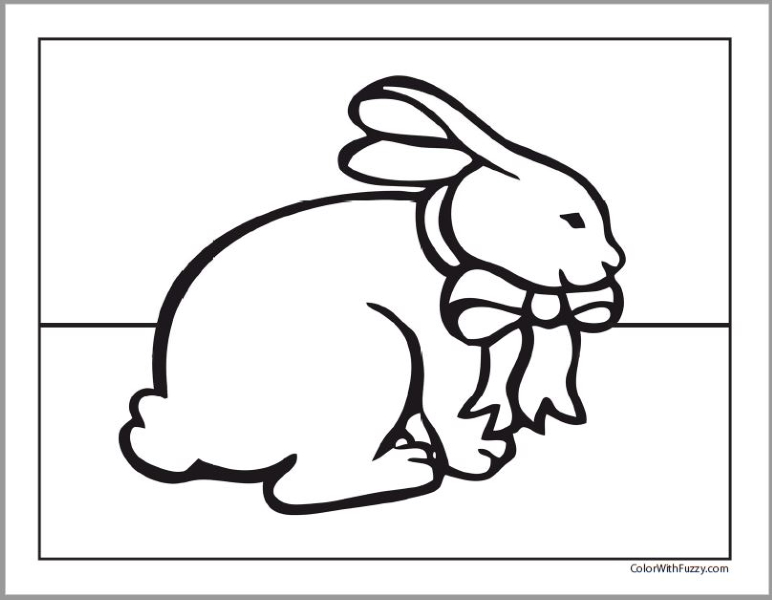 Cute Easter Bunny Coloring Page To Print
2.B. Sweet Coloring Picture Of An Easter Bunny
This is a darling sweet Easter bunny for preschool. The lines are simple and thick to make it easy to stay within the lines.
You can use Easter colors on the flowers and a pretty green on the grass.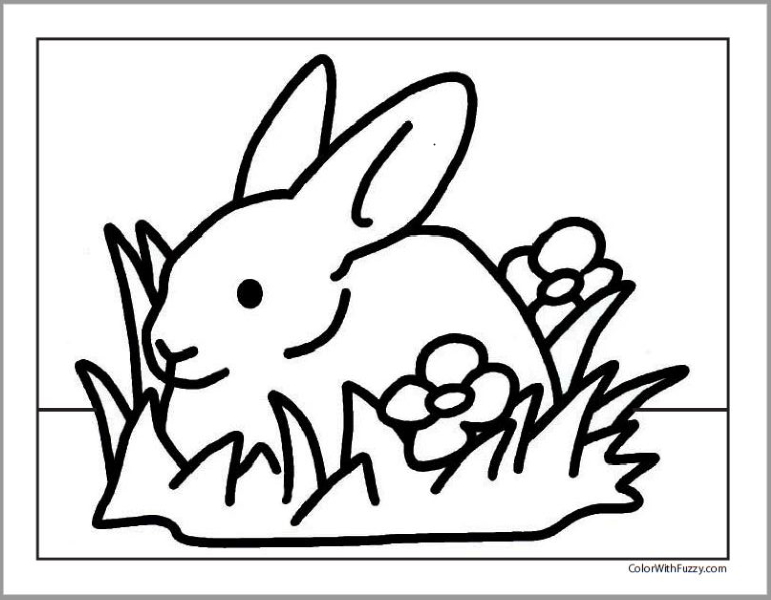 Print this Easter bunny page. See it hiding in the flowers.
2.C. Preschool Bunny Coloring Page
Here is another preschool Easter bunny coloring page. I love his long ears and buck teeth. Darling!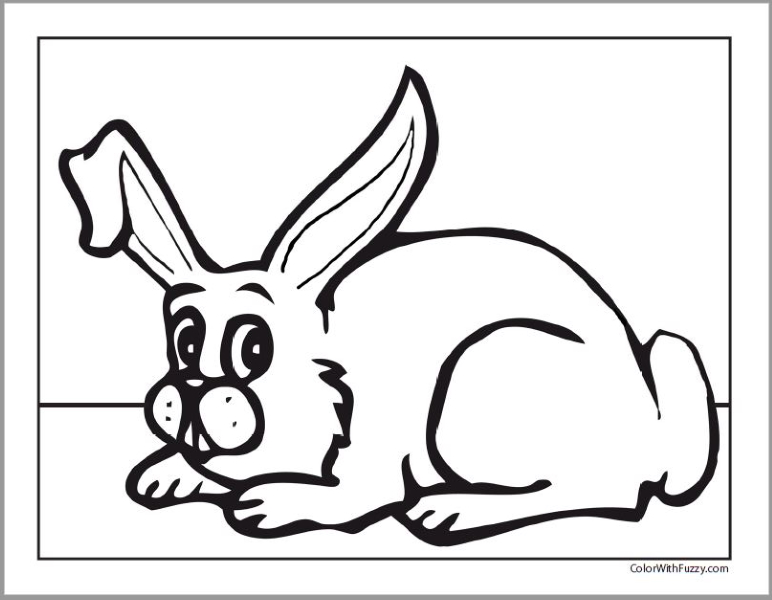 Color this darling Easter bunny coloring page for Mom!
2.D. Printable Easter Bunny Coloring Page
Oh! This is such a happy Easter bunny! He looks like he sees his best friend. Do you?
The thick outlines make this a great coloring page for preschool or kindergarten kids.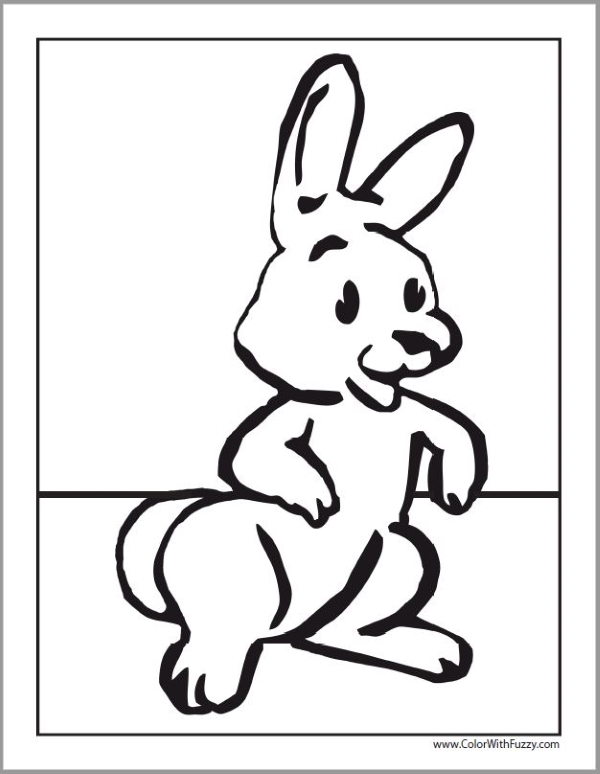 Have a happy Easter with this Easter bunny coloring page!
2.D. Baseball Easter Bunny Coloring Page
It's a baseball! It's a bird! No. It's an Easter egg!
This Easter bunny has a ball glove and baseball hat on ready to catch an Easter egg. Too cute!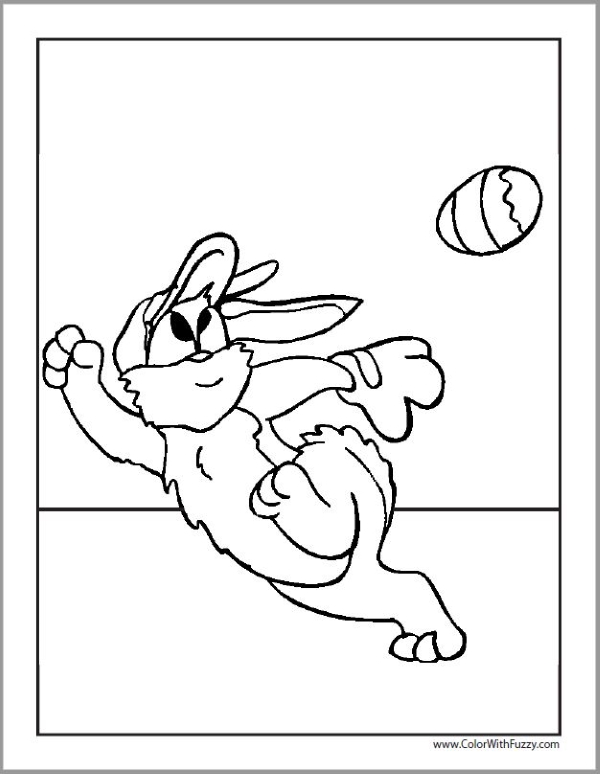 Baseball bunny is ready to catch an Easter egg. Get your crayons ready!
2.F. Easter Bunny With Easter Egg Coloring Page
This Easter bunny is sitting quietly waiting for you to color his Easter egg. 
What huge cheeks!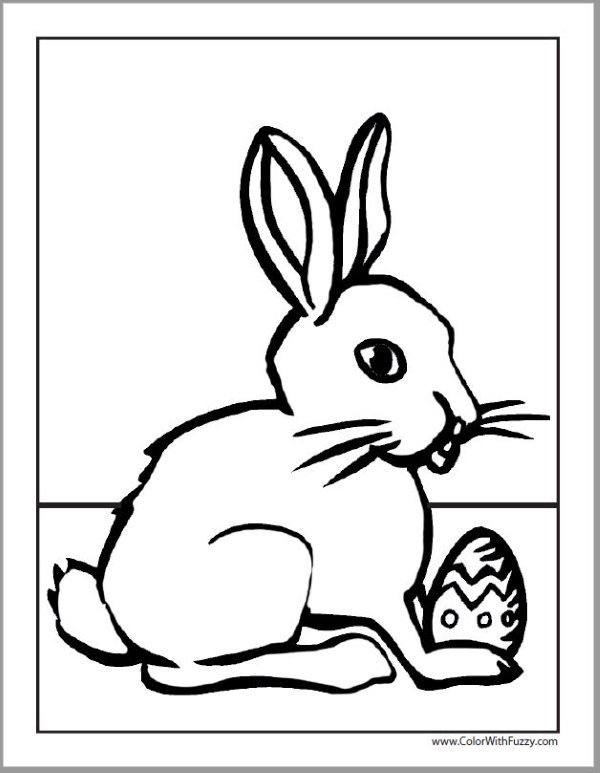 Which colors will you color this bunny's Easter egg.
3. Print Several Chocolate Bunny Coloring Pages: Make Many Copies!
Enjoy a super cute chocolate bunny coloring page. I love the ribbon tie!
Is it a real ribbon, frosting, or candy? You decide. Choose your favorite Easter colors.
Is it a white chocolate, dark chocolate, or milk chocolate bunny? My favorite is milk chocolate!
You can use a cream colored crayon for white chocolate,

A dark brown crayon for dark chocolate,

Or a lighter brown crayon for milk chocolate. Yum!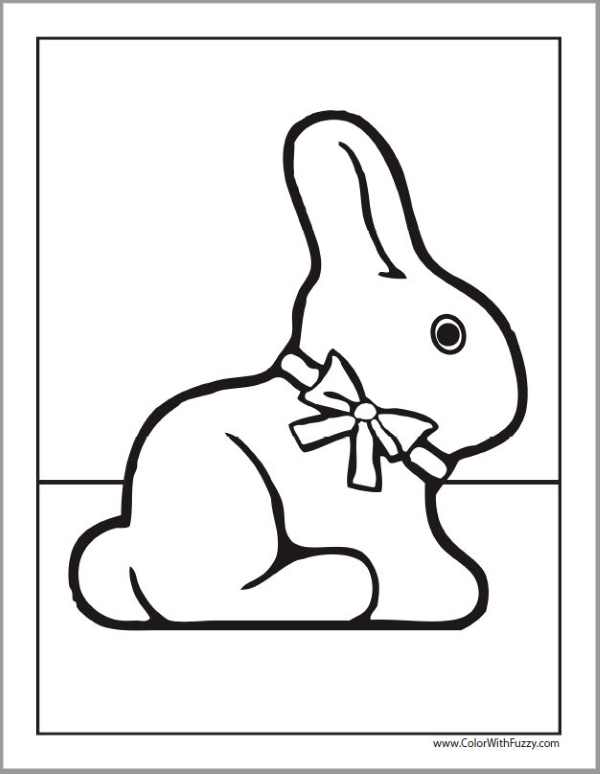 What a sweet chocolate bunny to color!
4. Jack Rabbit Coloring Page
A jack rabbit is a huge bunny rabbit! They generally live in wide open spaces, so they must be able to run fast.
Color this jack rabbit coloring page like a prairie or desert. You can even draw your own mountains and clouds in the distance.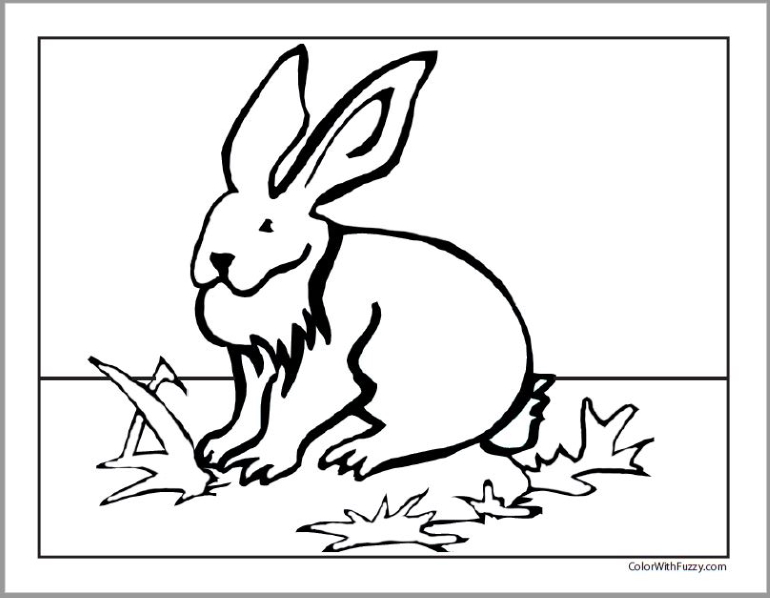 Speaking of rabbits, this jack rabbit is waiting for you to print and color!
Fuzzy Loves Bunny Coloring Pages!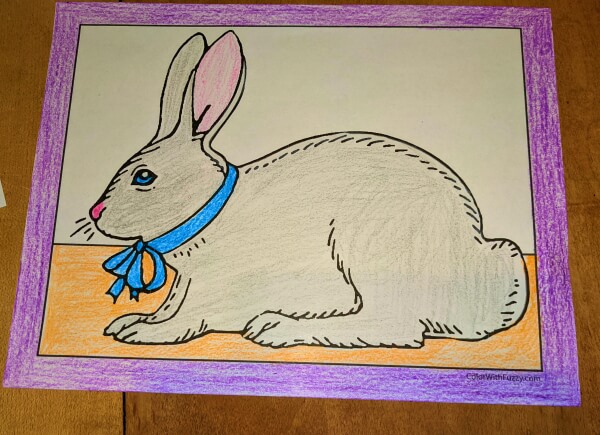 Print this spring bunny full sized.
Fuzzy loves bunny coloring pages!
They make me think of fun things to do in spring time like gathering Easter eggs or practicing for baseball. 
When you're coloring, think of pastel spring colors or bright summer colors with green, green, and green. So many kinds of grass and plants are green which means that you can use different greens for different plants, flowers, and grasses.
The pastel and bright flowers, Easter eggs, ribbons, and bows will contrast well with beautiful green backgrounds.
Thank you for coloring with Fuzzy!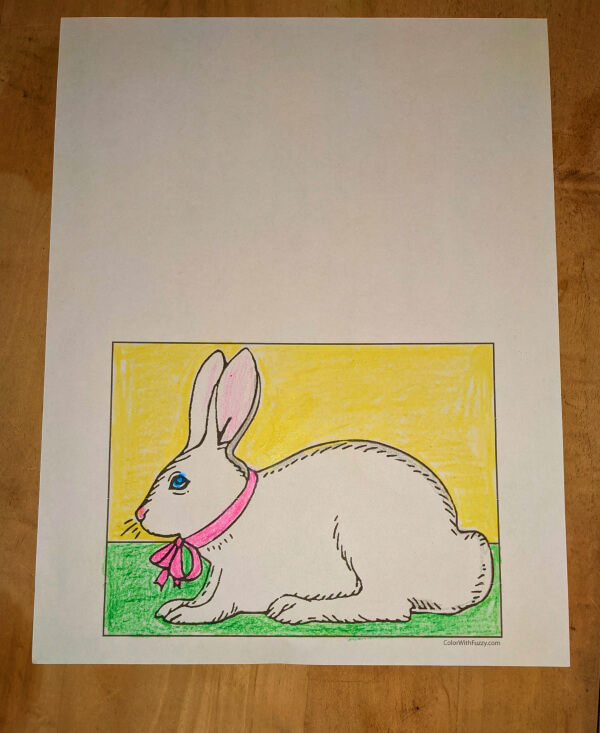 Use your printer's settings to print different sizes for different activities.