Printable Turkey Coloring Pages 
Color with Fuzzy!
My favorite of these turkey coloring pages is the big gobbler with his bright red wattle and his tail fanned in a circle behind him. The other one is the huge wild turkey. He looks like the grandpa!
Did you know that the daddy turkey is called a tom and that the momma is a hen? Young ones are called jakes and jennies and little ones are called poults and chicks. 
~ Fuzzy

I may make a small commission if you buy through my links. See my disclosure here.
Attribution: Many CWF images are licensed at GraphicsFactory.com.

Jump down to these coloring pages on this page:
Detailed and Realistic Turkeys

Cute Baby Turkey Coloring Sheets 

Cartoon Turkey Printables
1. Detailed and Realistic Turkey Coloring Pages
Enjoy some turkey love and wonderful farm and field landscapes here.
I may make a small commission if you buy through my links. See my disclosure here.
Preschool and elementary school kids will love these ad-free PDF printable coloring pages. They are fun to customize and color for online homeschool.
Add your name or write a birthday message in your favorite fonts, SIZES, and colors. You'll love using interactive coloring pages to print! See our home page for more info on digital downloads.
Use your printer's booklet setting for birthday cards.
Use the multiples setting for doll sized printables

two to four up. Kindergarten children love these!
Also, get your favorite crayons, coloring pencils, and watercolors ready for my relaxing adult coloring pages!
~Fuzzy
2. Cute Turkey Coloring Sheets
3. Cartoon Turkey Printables
Fuzzy Loves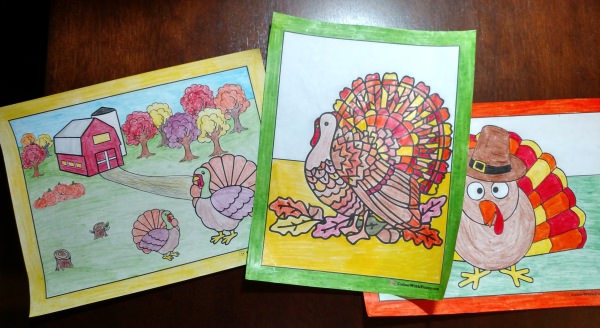 Choose fall colors for a bright effect.
Children like it when you spice up your fall activities with an "Over the hills and through the woods" theme like turkeys. Toddlers like the farm themes and turkeys for Thanksgiving Day and the Christmas holidays.
I like to set out the fall colors for the leaves and pumpkins and show the children that the pictures can have green or brown ground with a blue or yellow sky. It's great to show preschoolers that they can use different colors in the tom turkey's tail, red for his gobbler, yellow for the buckle on the pilgrim hat. They like having your ideas, yet it's also fun to see what colors they invent.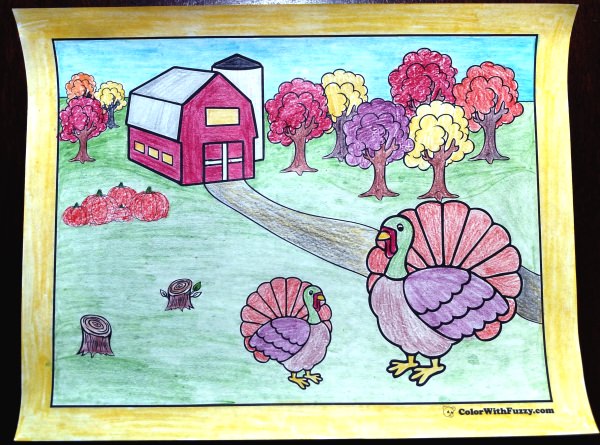 Beautiful autumn scene with turkeys.
More creative kids can sprinkle corn on the floor for the turkeys to eat and straw for them to scratch. When you're figuring what to prepare for several children, it's fun to allow for the child who wants to make the turkey's tail a rainbow of colors.

Kindergartners love sending Grandma and Grandpa a turkey greeting card for Thanksgiving. This is super easy to do if you set your printer setting to "booklet". This prints the right side of the paper so you can fold it in half either horizontally or vertically to make a card with a cover. These pages are customizable, so you can also add a message to the picture for a sweet personalized effect. 
See more:
Thank you for coloring with Fuzzy!